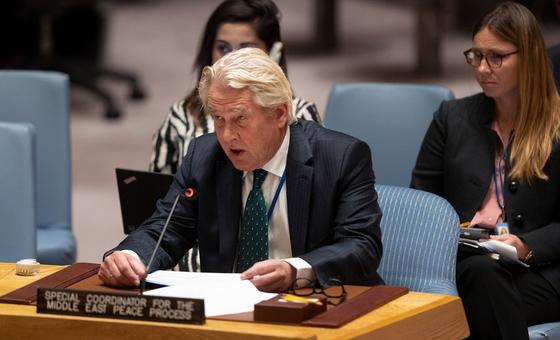 Mr. Wennesland said he was gravely concerned by the deteriorating security situation in the occupied West Bank, particularly the violence in Huwwara that erupted over the past 24 hours. 
"My condolences to the family of the two Israeli brothers killed in a shooting attack yesterday by a Palestinian perpetrator and to the family of the Palestinian killed during a rampage by vigilante settlers in retaliatory attacks, which resulted also in many Palestinians injured and homes in Huwwara set ablaze," he said in a statement. 
International media also reported that a Palestinian man shot and critically wounded a 25-year-old Israeli man near Jericho on Monday. 
Accountability and condemnation
Mr. Wennesland – officially UN Special Coordinator for the Middle East Peace Process – stressed that security forces have the responsibility to maintain security and prevent individuals from taking the law into their own hands. 
 "There can be no justification for terrorism, nor for arson and acts of revenge against civilians," he added.  "All perpetrators of violence must be held accountable. Violence, provocations, and incitement must stop immediately and be unequivocally condemned by all." 
The situation unfolded as Jordan hosted Israeli and Palestinian political and security officials in the Red Sea resort of Aqaba on Sunday, in efforts to curb rising violence ahead of the holy month of Ramadan. 
Representatives from the United States and Egypt also attended. 
'No shortcuts to peace' 
Mr. Wennesland said he was encouraged by commitments reaffirmed by the parties in the final Aqaba Communiqué, including towards de-escalation. 
He urged the sides to make all efforts to address the core issues driving the conflict in line with UN resolutions, international law and previous agreements. 
"The United Nations remains committed to supporting Palestinians and Israelis to achieve a just and lasting peace," he said. "There are no shortcuts to peace." 
Source link